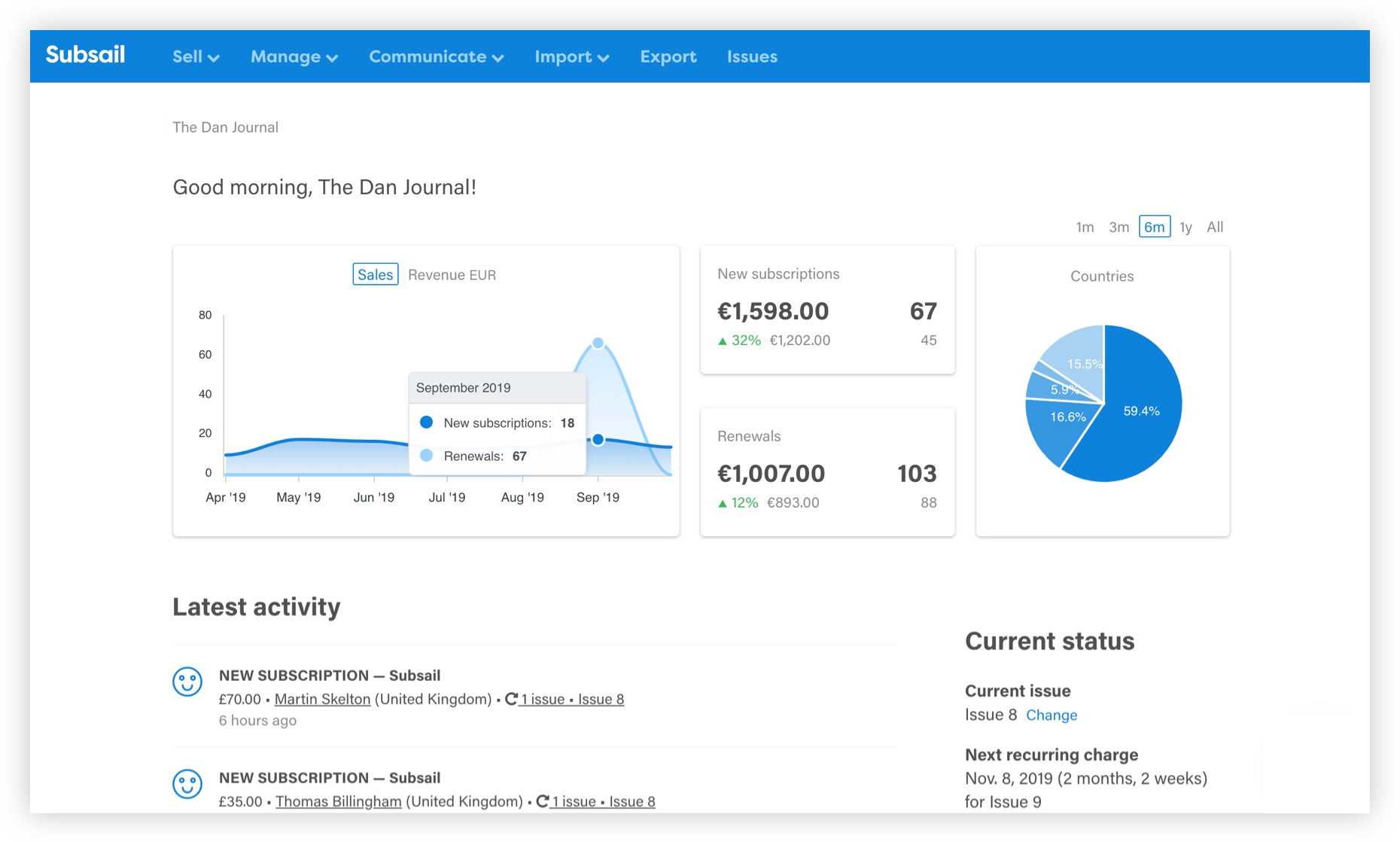 With Subsail you can sell print and digital magazine subscriptions to readers worldwide. It takes just minutes to set up on your website.
Start with a full-featured trial.
Totally free for your first 20 subscriptions.
"
Subsail has allowed us—and our customers—to manage subscriptions far easier than our previous system, and auto-exporting data to our fulfilment partner has been a huge timesaver.
Easy to set up, easy to manage.
Subsail has been designed as a simple and powerful tool to power your magazine's subscriptions, with an easy-to-add checkout combined with useful tools for taking care of subscribers and getting data ready for fulfilment.
1. Add your products
Create renewing or non-renewing products. Choose your postage rates and number of included issues.
2. Send readers to your checkout
Add a link to your Subsail hosted checkout from your website or share it on social media.
3. Monitor your sales
In Subsail, check your sales figures, your feed of activity and easily access your subscribers and subscriptions.
4. Export for fulfilment
When you need to send out magazines, quickly export your data formatted for multiple platforms like ShipStation and Newsstand (and CSV).
Sell anywhere. Manage in Subsail.
Continue selling through Shopify, Big Cartel, Squarespace etc.
Import your subscriptions into Subsail and enjoy a much easier way to view, manage and fulfill your subscription orders.
And there's a lot more to discover in your Subsail account.
Renewals that only charge when you release new issues.
Easy exports for your fulfilment process.
Create subscriber segments.
Auto send new subscriptions to Newsstand.
Update subscriber addresses.
Manage cancellations and refunds.
Auto import subscription orders from Shopify and Big Cartel.
Sync subscriber info with your Mailchimp lists.
"
Subsail has been an absolute game-changer for the Goodnewspaper. I've tried virtually every subscription tool on the market and none of them are as simple to use as Subsail.
Get a full-featured trial, totally free for your first 20 subscriptions.
All this from $19/month.
Start totally free. No commitment, no questions asked.
---
Learn why subscriptions are important for your magazine and how Subsail helps you succeed
---
Stay updated with the Subsail newsletter
Subscribe to receive news of features and development updates.